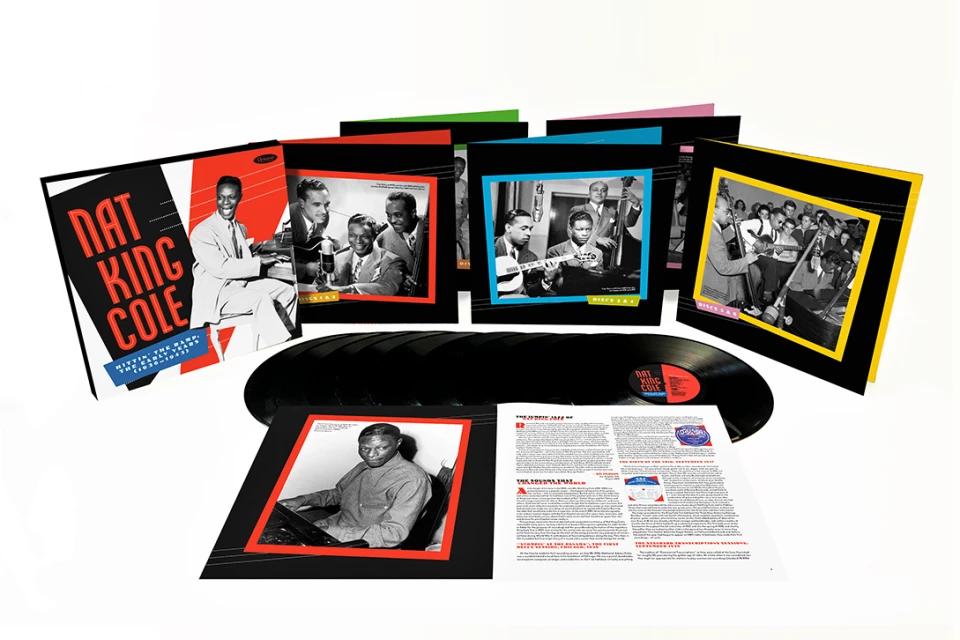 Na początku listopada swoją premierę miała niezwykła 10-płytowa limitowana kolekcja wczesnych albumów Nat King Cole'a. Wydawnictwo ukazało się za pośrednictwem Resonance Records i zawiera wcześniej niepublikowane nagrania artysty.
Antologia "Hittin' the Ramp: The Early Years (1936-1943)" zawiera blisko 200 utworów i skupia się na początkowych latach kariery Cole'a- między jego debiutem nagraniowym w wieku 17 lat a podpisaniem kontraktu z Capital Records, z którymi Cole święcił największe tryumfy.
Kolekcja czerpie z szerokiej gamy źródeł, w tym wielu niepublikowanych dotąd utworów takich jak: "Trompin" (wydany dla Cinematone w 1939 r.), "What'cha Know Joe" (wykonanie radiowe z 1940 r.) czy "The Romany Room is Jumpin" "(nagranie prywatne, 1941 r.). Na płytach znajdziemy również sesje 17-letniego Cole'a, grającego na pianinie w zespole brata w Chicago w 1936 r. oraz pierwsze nagrania King Cole Trio z 1938 r., przeznaczone wyłącznie do emisji radiowych. W ramach wydawnictwa otrzymujemy także ponad 60 stronicowy album z rzadkimi zdjęciami artysty, eseje uznanego autora Willa Friedwalda i gitarzysty Nicka Rossiego oraz wywiady m.in. z Johnnym Mathisem, Tonym Bennettem, Quincy Jonesem, Harrym Belafonte, Johnem Pizzarelli, Freddym Colem czy Michaelem Feinsteinem.

Zestaw jest również dostępny w formacie cyfrowym na 7 płytach CD.
Nat King Cole "Hittin` the Ramp: The Early Years (1936-1943)" (10 LP)

Lista utworów:
Strona 1A (A)

Honey Hush 2:52, 1936, Decca master take
Stompin' at the Panama (Skoller's Shuffle) 2:59, 1936, Decca master take
Bedtime (Sleepy Moan) 2:54, 1936, Decca master take
Thunder 1936, Decca master take
Mutiny in the Nursery 2:52, 1938, Standard transcription
F.D.R. Jones 3:10, 1938, Standard transcription
The Sheik of Araby 2:17, 1938, Standard transcription
The Blue Danube 2:50, 1938, Standard transcription
Button, Button 2:52, 1938, Standard transcription
Strona 1B (B)
Jingle Bells 1938, Standard transcription
Swanee River 1938, Standard transcription
With Plenty of Money and You 2:15, 1938, Standard transcription
Don't Blame Me 2:26, 1938, Standard transcription
Lullaby in Rhythm 2:48, 1938, Standard transcription
Dark Rapture 3:13, 1938, Standard transcription
The Wiggly Walk 2:52, 1938, Standard transcription
Flea Hop 2:43, 1938, Standard transcription
Chopsticks 2:44, 1938, Standard transcription
Patty Cake, Patty Cake 2:43, 1938, Standard transcription
Strona 2A (C)
Blue Skies 2:09, 1938, Standard transcription
Liza 2:58, 1938, Standard transcription
Three Blind Mice 2:08, 1938, Standard transcription
Caravan 2:17, 1938, Standard transcription
There's No Anesthetic for Love 3:15, 1939, Davis & Schwegler transcription
Dixie Jamboree 3:04, 1939, Davis & Schwegler transcription
Ta-De-Ah 2:39, 1939, Davis & Schwegler transcription
Riffin' at the Bar-B-Q 2:05, 1939, Davis & Schwegler transcription
Harlem Swing 2:30, 1939, Davis & Schwegler transcription
I Lost Control of Myself 3:16, 1939, Davis & Schwegler transcription
Strona 2B (D)
The Land of Make Believe 2:52, 1939, Davis & Schwegler transcription
That Please-Be-Mine-Able Feeling 2:15, 1939, Davis & Schwegler transcription
Dancing in the Street 3:09, 1939, Davis & Schwegler transcription
You're So Different 3:02, 1939, Davis & Schwegler transcription
I Wouldn't Have Known It 2:33, 1939, Davis & Schwegler transcription
Let's Get Happy 2:18, 1939, Davis & Schwegler transcription
Undecided 2:26, 1939, Standard transcription
'Taint What You Do 2:53, 1939, Standard transcription
Do You Wanna Jump, Children? 2:46, 1939, Standard transcription
Riffin' in F Minor 2:06, 1939, Standard transcription
Strona 3A (E)
Ol' Man Mose Ain't Dead 3:30, 1939, Standard transcription
Blue Lou 3:01, 1939, Standard transcription
Honey 2:11, 1939, Standard transcription
Russian Lullaby 2:07, 1939, Standard transcription
Georgie Porgie 2:23, 1939, Standard transcription
The Limp 2:52, 1939, Standard transcription
Snug as a Bug in a Rug 2:35, 1939, Standard transcription
Liebestraum 3:23, 1939, Standard transcription
Fidgety Joe 2:57, 1939, Standard transcription
Strona 3B (F)
Two Against One 3:00, 1939, Standard transcription
Some Like it Hot 3:09, 1939, Standard transcription
Crazy Rhythm 2:00, 1939, Standard transcription
Moonglow 2:57, 1939, Standard transcription
Don't Let That Moon Get Away 2:45, 1939, Standard transcription
My Blue Heaven 1:36, 1939, Standard transcription
I Was Doing Alright 2:17, 1939, Standard transcription
I Can't Get Started 2:41, 1939, Standard transcription
Old Man Moon 2:16, 1939, Standard transcription
Carry Me Back to Old Virginny 2:14, 1939, Standard transcription
Strona 4A (G)
Moon Song 3:09; 1939, Standard transcription
Baby, Won't You Please Come Home 2:20, 1939, Standard transcription
Rosetta 2:11; 1939, Standard transcription
Trompin' 2:46, 1939, Standard transcription
You're My Life 2:54, 1939, Standard transcription
Hoy Soy 2:33, 1939, Standard transcription
Take 'Em 2:24, 1939, Standard transcription
Scategoria 2:32, 1939, Standard transcription
Rhythm Serenade 2:35, 1939, Standard transcription
Rib Town Shuffle 2:46, 1939, Standard transcription
Strona 4B (H)
Music'll Chase Your Blues Away 2:01, 1939, Standard transcription
I'll Gather Up My Memories 3:34, 1939, Standard transcription
A Fool's Affair 3:34, 1939, Standard transcription
Jump, Jack, Jump 2:47, 1939, Standard transcription
I Knew a Time 3:05, 1939, Standard transcription
Mine You'll Always Be 3:19, 1939, Standard transcription
Doin' the Bow Wow 2:44, 1939, Standard transcription
Lilla Mae 2:18, 1939, Standard transcription
Strona 5A (I)
I Like to Riff 2:49, 1940, Ammo, master take
On the Sunny Side of the Street 2:55, 1940, Ammor master take
Black Spider Stomp 2:40, 1940, Ammor master take
By the River St. Marie 2:25, 1940, Ammor master take
Slew Foot Joe 2:14, 1940, Standard transcription
1-2-3-4 2:09, 1940, Standard transcription
Crazy 'Bout Rhythm 2:04, 1940, Standard transcription
Off the Beam 2:18, 1940, Standard transcription
King Cole Blues 2:07, 1940, Standard transcription
Jivin' with the Notes 2:01, 1940, Standard transcription
Never Mind, Baby 1:45, 1940, Keystone transcription
Strona 5B (J)
I'm a Perfect Fool Over You 2:38, 1940, Keystone transcription
Lovely Little Person 2:23, 1940, Keystone transcription
Love Me Sooner 2:32, 1940, Keystone transcription
Sentimental Blue 2:44, 1940, Keystone transcription
Goin' to Town with Honey 2:21, 1940, Keystone transcription
Syncopated Lullaby 1:51, 1940, Keystone transcription
Falling in and Out of Love 1:50, 1940, Keystone transcription
Let's Do Things 2:01, 1940, Keystone transcription
Jumpy Jitters 1:51, 1940, Keystone transcription
Nothing Ever Happens 2:35, 1940, Keystone transcription
What'cha Doin' to My Heart 1:37, 1940, Keystone transcription
Strona 6A (K)
Bedtime 2:45, 1940, Standard transcription
Honey Hush 2:18, 1940, Standard transcription
French Toast 2:15, 1940, Standard transcription
Vine Street Jump 2:43, 1940, Standard transcription
B Flat 2:32, 1940, Standard transcription
You Send Me 2:11, 1940, Standard transcription
Love Is My Alibi 3:13, 1940, Standard transcription
Pogo Stick Bounce 2:19, 1940, Standard transcription
Whatcha' Know, Joe? 2:36, 1940, unreleased radio broadcast
Sweet Lorraine 2:57, 1940, Decca master take
Strona 6B (L)
Honeysuckle Rose 2:34, 1940, Decca master take
Gone with the Draft 2:44, 1940, Decca master take
This Side Up 2:49, 1940, Decca master take
Jumpin' with the Mop 2:26, 1941, Standard transcription
Jam Man 2:05, 1941, Standard transcription
Let's Try Again 3:05, 1941, Standard transcription
Fudge Wudge 3:51, 1941, Standard transcription
Smokey Joe 1:58, 1941, Standard transcription
Windy City Boogie Woogie 2:26, 1941, Standard transcription
Ode to a Wild Clam 2:26, 1941, Standard transcription
Strona 7A (M)
Let's Try Again 3:10, 1941, MacGregor transcription
Whatcha' Know, Joe? 2:12, 1941, MacGregor transcription
Lazy River 1:46, 1941, MacGregor transcription
Georgia on My Mind 2:45, 1941, MacGregor transcription
Rockin' Chair 3:13, 1941, MacGregor transcription
A Little Jive Is Good for You 3:41, 1941, MacGregor transcription
You've Changed 3:05, 1941, MacGregor transcription
Strona 7B (N)
Babs 2:27, 1941, Decca master take
Scotchin' with the Soda 2:35, 1941, Decca master take
Slow Down 3:09, 1941, Decca master take
Early Morning Blues 2:46, 1941, Decca master take
The Romany Room Is Jumpin' 2:30, 1941, unreleased private recording
This Will Make You Laugh 3:14, 1941, Decca master take
Stop! The Red Light's On 2:39, 1941, Decca master take
Hit the Ramp 3:21, 1941, Decca master take
I Like to Riff 2:48, 1941, Decca master take
Strona 8A (O)
Call the Police 3:05, 1941, Decca master take
Are You Fer It? 3:08, 1941, Decca master take
That Ain't Right 3:14, 1941, Decca master take
Hit That Jive, Jack 2:59, 1941, Decca master take
Indiana 4:53, 1942, Philo, w/Lester Young
I Can't Get Started 4:55, 1942, Philo, w/Lester Young
Strona 8B (P)
Tea for Two 4:47, 1942, Philo, w/Lester Young
Body and Soul 5:13, 1942, Philo, w/Lester Young
Vom, Vim, Veedle 3:02, 1942, Excelsior master take
All for You 3:28, 1942, Excelsior master take
Hip Hip Hooray 2:24, 1943, AFRS Jubilee #5
I Know That You Know 2:10, 1943, AFRS Jubilee #5
I'm Gonna Move to the Outskirts of Town 3:44, 1942 or 1943, Live from the 331 Club
Strona 9A (Q)
Pitchin' Up a Boogie 3:14, 1943, Excelsior master take
I'm Lost 3:19, 1943, Excelsior master take
Beautiful Moons Ago 2:27, 1943, Excelsior master take
Let's Spring One 2:43, 1943, Excelsior master take
Slender, Tender, and Tall 2:06, 1943, AFRS Jubilee #29
I've Found a New Baby 4:44, 1943, Mercury, w/Dexter Gordon
Rosetta 5:10, 1943, Mercury, w/Dexter Gordon
Strona 9B (R)
Sweet Lorraine 4:56, 1943, Mercury, w/Dexter Gordon
I Blowed and Gone 4:47, 1943, Mercury, w/Dexter Gordon
Solid Potato Salad 2:07, 1943, AFRS Jubilee #36
F.S.T. (Fine, Sweet & Tasty) 3:07, 1943, Premier master take
Got a Penny 2:37, 1943, Premier master take
Let's Pretend 3:18, 1943, Premier master take
My Lips Remember Your Kisses 3:11, 1943, Premier master take
I'm an Errand Boy for Rhythm 1:51, 1943, AFRS Jubilee #51
Straighten Up and Fly Right 2:45, 1943, AFRS Jubilee #51
Strona 10A (S)

Honey Hush 2:47, 1936, Decca alternate take
By the River St. Marie 2:12, 1938 Standard transcription
I Like to Riff 2:33, 1939, Standard transcription
Black Spider Stomp 2:54, 1939, Standard transcription
Sweet Lorraine 3:23, 1939, Standard transcription
Early Morning Blues 2:53, 1940, Standard transcription
Gone with the Draft 2:22, 1940, Standard transcription
Trompin' 1:48, 1939, Recorded for Cinematone
Sweet Lorraine 2:57, 1940, Decca alternate take
Gone with the Draft 2:41, 1940, Decca alternate take
Strona 10B (T)
Scotchin' with the Soda 2:25, 1941, Standard transcription
Gone with the Draft 2:28, 1941, Standard transcription
The Romany Room Is Jumpin' 2:33, 1941, unreleased private recording, alternate take
Hit That Jive, Jack 2:16, 1942, AFRS Mail Call #16
Beautiful Moons Ago 3:36, 1943, Excelsior alternate take
Honeysuckle Rose 3:20, 1943, AFRS Jubilee #29
I Know That You Know 2:53, 1943, AFRS Jubilee #36
Solid Potato Salad 2:14, AFRS Command Performance #87
My Lips Remember Your Kisses 3:07, 1943, Premier alternate take
Straighten Up and Fly Right 2:52, 1943, AFRS Personal Album #227